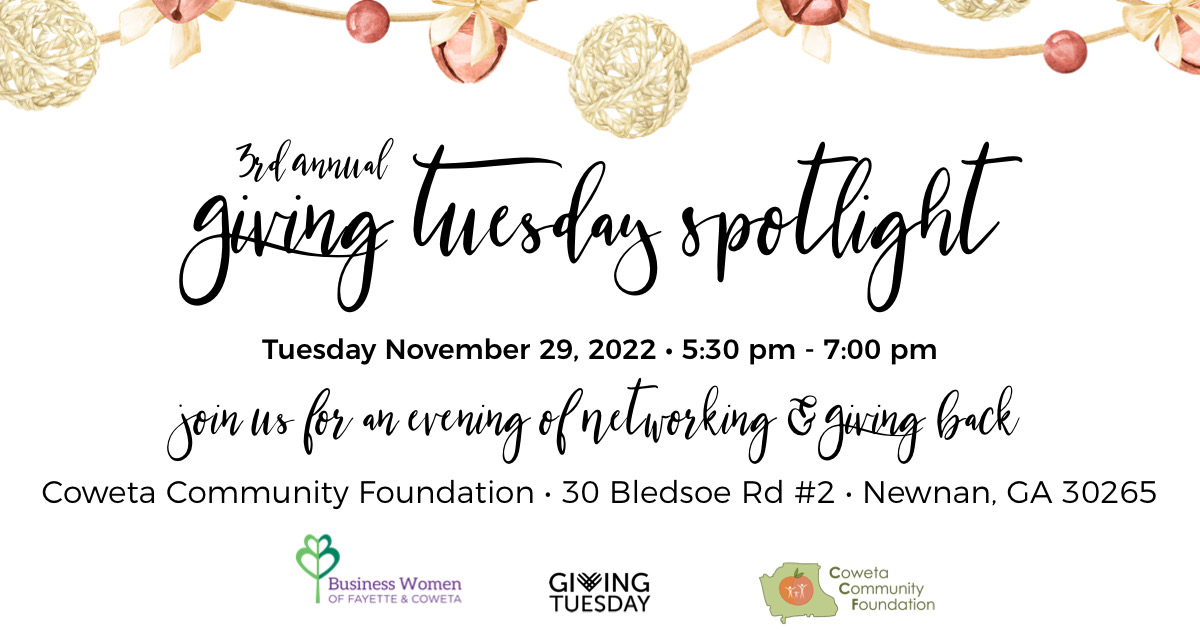 3rd Annual Giving Tuesday Event November 29, 2022
Giving Tuesday – Holiday Social Connect. The host is Kristen Webb will be held at the Coweta Community Foundation Offices located at 30 Bledsoe Road, Newnan, GA 30265. Come on out for a fun evening of networking, socializing and giving back! Bring a gift card to support one of our causes. Examples – Grocery cards, office supplies gift cards, Amazon gift cards – anything like that will help support our local causes.
This event is for Members and Visitors of The Business Women of Fayette and Coweta.
There is no charge to attend the event but we ask you to RSVP below so our host can plan accordingly.
At our Connect events, you'll make new connections and share experiences with other successful women in our community. You'll hear from other women about their road to success and the lessons they learned along the way. There will be time to engage with your peers so you can discover new business connections and opportunities. Together, we'll recognize and celebrate the accomplishments of women in our community and inspire one another to grow as professionals.
The event will be from 5:30pm to 7:30pm (drop in's welcome).
If you are unable to attend but would still like to donate to the five Causes, click on the button: 
Recent Comments
No comments to show.